We just hit our 100,000th Fix and we couldn't have gotten this far without you–YES, YOU!  As a way of saying thanks for being such wonderful clients, we're celebrating this exciting milestone with a Share Your Stitch Fix Story Contest featuring a $1,000 credit giveaway.
We love hearing all of your stories about how Stitch Fix has become a part of your daily lives.  Whether you're a new mom who needs a little pampering or you have broken out of your fashion comfort zone with the help of our Stylists, your Stitch Fix Stories inspire us to keep doing what we do.  If you haven't already done so, be sure to check out the contest and Share Your Stitch Fix Story for a chance to win!
We asked five of our favorite bloggers to share their own Stitch Fix Stories and give you a peek of how Stitch Fix style fits in with their lives!
Madison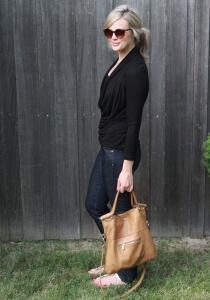 Anyone who gets to know me will quickly hear about my newest love: Stitch Fix. I first gave Stitch Fix a try when I became bored with shopping at the same three or four stores time and time again. At only 25 years old, I already felt myself getting into a style rut and Stitch Fix came to the rescue. I was instantly impressed with the variety of items and brands in each of my boxes. Even if every piece wasn't a perfect match for me, having the box at home forced me to try on items that I wouldn't normally gravitate to if I was shopping at a store. Surprisingly, I ended up liking a lot of pieces I didn't think I would like!
Most recently Stitch Fix has come to my rescue as my hubby and I prepare for our upcoming trip to Europe. We are packing light, so I am in need of versatile, neutral-colored items that wear well. I can already tell that the top I'm wearing in this photo will be well-worn at the end of our vacation. In total, I'm taking four Stitch Fix tops along with us and can already tell I'm going to look and feel great on our trip!
Morgan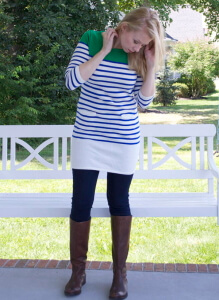 After having my little girl, I felt stuck when it came to fashion and style.  I lived in oversized t-shirts and baggy sweatpants…totally not cool.  Stitch Fix was my motivation to get back into shape and has allowed me to add some new stylish pieces to my wardrobe.  I love that I can try the clothes on in the comfort of my own home (with my own accessories and shoes!) and it saves me time now that I don't have to drive an hour away to our nearest mall.
My personal stylist has followed my style survey pretty closely, but I also love that she has me try clothes that I normally wouldn't give a second thought to.  I really appreciate her recommendations because I've stumbled upon some amazing pieces!  I'm so thankful for Stitch Fix showing me that just because I'm a mom, that doesn't mean that I can't be stylish!
Susan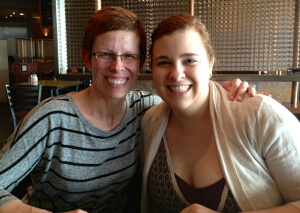 My standard mom attire – jeans and t-shirts– fills my closet.  There are a few variations, but mainly I am a 'plain-jane' kinda gal, who doesn't go for the frilly or fancy: just basic fits me fine.
When I discovered the ability to have someone else send me items of clothing that fit in with my style and also stretched me out of my "mom hibernation' a bit, I thought it was time.  To have those items shipped to my home so I didn't have to waste my time at the mall seemed almost too good to be true.
I have several items that have arrived in my Stitch Fix boxes that I have loved, but one 'go-to' item is the Corinna Striped Dolman Sleeve Top in grey.  It looks great paired with jeans or I can spice things up a bit with a necklace and a skirt to make the simple top look fabulous.  I threw this top in my bag when I went to Mom's Weekend to visit my daughter at college last spring at Washington State University.  It worked great for a quick dinner out with her and a friend.
Anne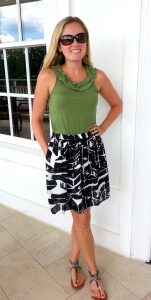 Thanks to Stitch Fix, I've never been more excited for the mail to arrive! The second an email comes in with "You've Got a Package," I run, not walk, downstairs to retrieve my "Fix." I love opening it and seeing what fun and creative apparel my stylist has picked out for me! Sure, I could go to the store and buy similar things myself, but somehow it's much more exciting when it comes to you as a surprise. I also love that my stylist picks out things for me that I might not ever pick up and try on myself; I've been surprised that I liked some of the clothing styles I hadn't thought would work for me! The style tip card included with each piece is also great. So far, I have a new favorite pair of skinny jeans for fall and a new favorite skirt that I can dress up to wear with clients or down to wear to brunch. Thanks to Stitch Fix for getting me out of my fashion rut – can't wait for my next "Fix"!
Raven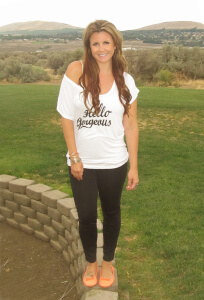 The moment I opened my first Stitch Fix package, I was hooked. I've never had a personal stylist before and getting my items shipped right to my front door? Talk about a win-win situation! My favorite  piece so far has definitely got to be these black skinny pants by Sanctuary, which is funny because they are something I would never pick out myself. They are incredibly versatile and so comfortable, two things my Stylist has always kept in mind when sending pieces my way. Getting my Stitch Fix package in the mail is definitely a highlight of my month!