Here's how it works:
Find the figure features you want to flaunt below.

Learn more about which cuts flatter these features & why.

Select one or two silhouettes you'd like to try.

Then tell your Stylist in your Fix Note to get your most figure-flattering Fixes ever.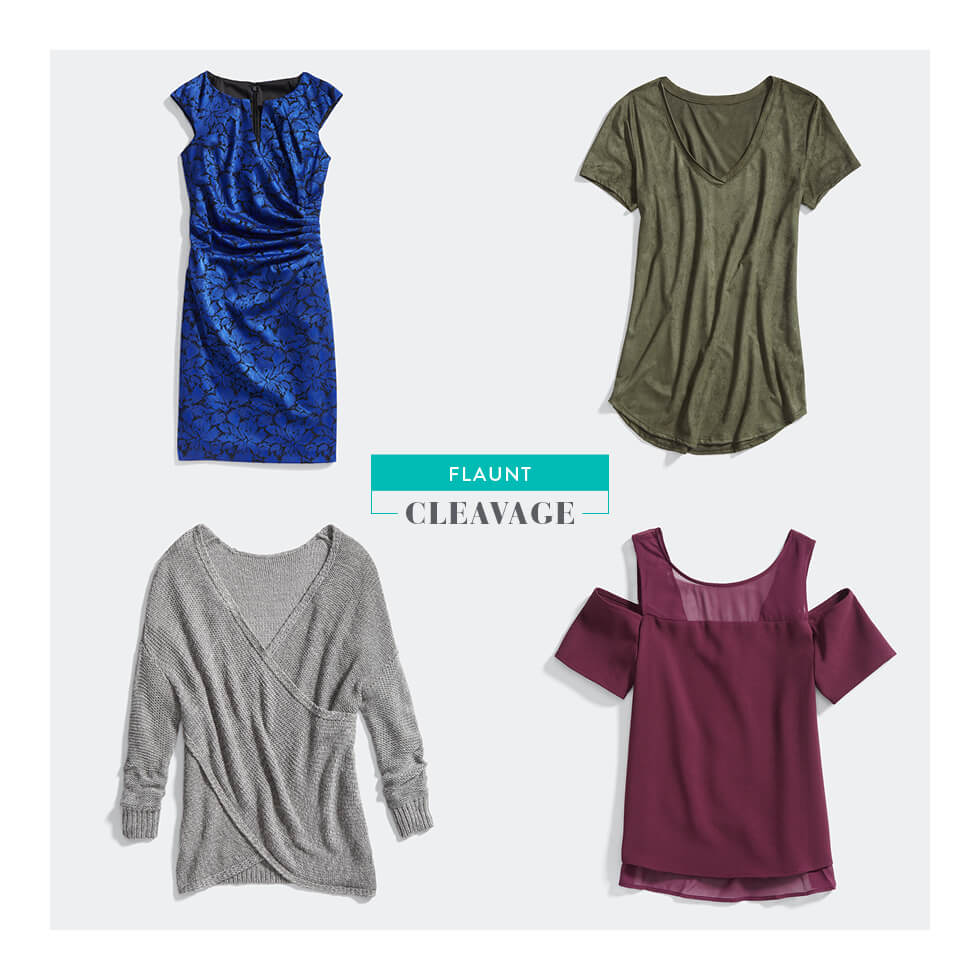 FLAUNT YOUR CLEAVAGE
If you like to emphasize your bust, there are ways to show them off—from a subtle slit to a daring deep V.
Cut-out neckline: A split at your neckline hints to what's below, without exposing too much.
Deep V-neck top: A deep-V neckline elongates your top half & draws the attention to your bust.
Wrap top: Universally flattering, wrap tops create a flattering drape to highlight your chest.
Sheer neckline: Sheer, delicate mesh at your neckline is a barely-there way to show some cleavage.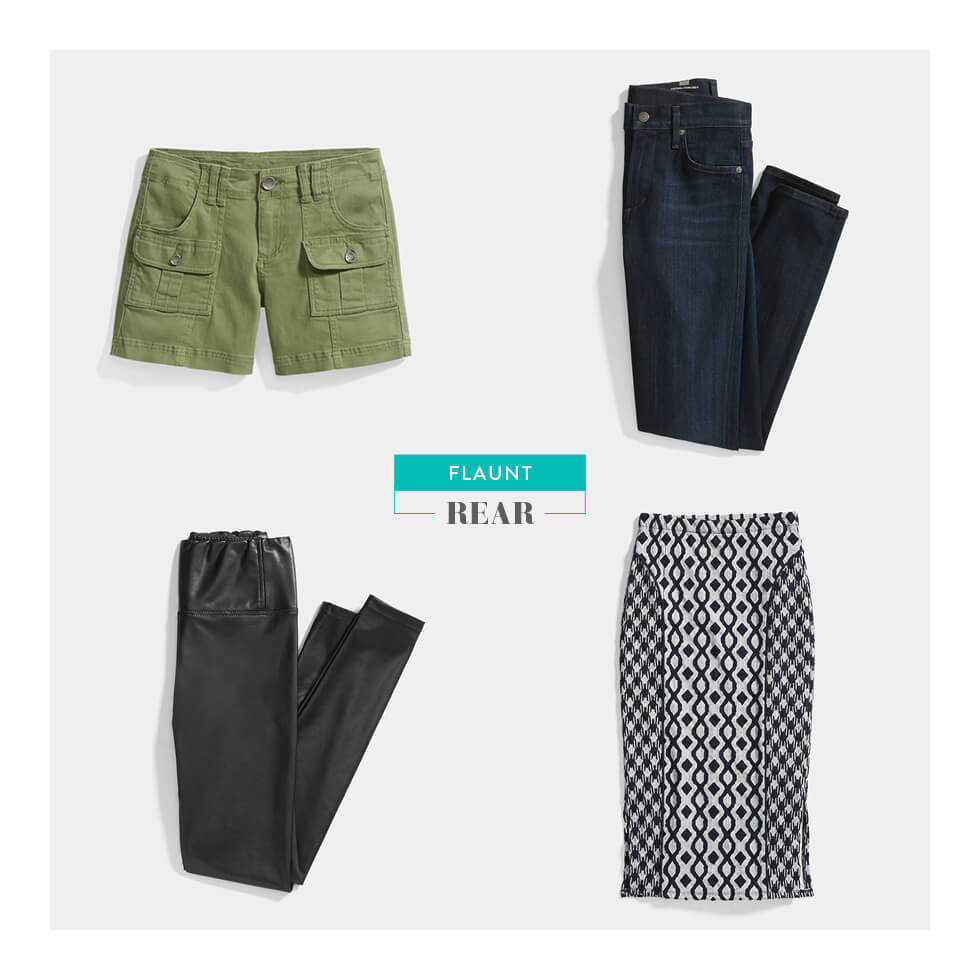 HIGHLIGHT YOUR REAR
The derriere had its moment in 2015, but we say: flaunt what you got anytime, any year. If you take pride in your curves, here's how to showcase them—from body-con skirts to booty-hugging jeans.
Shorts: Fitted, mid-thigh shorts emphasize your curves (as opposed to cut-offs, which can mask the appearance of an ample derriere).
Skinny jeans: Go for a super-tight, "painted-on" fit for a more pronounced rear.
Sleek leggings: It's a fashion risk-taker's dream. Maybe not for everyday (or maybe they are!), a pair of these showstoppers spotlight your righteous rump.
Pencil skirt: Like your favorite bronzer, a pencil skirt contours & defines. This hip-hugging style is sexy, timeless & leaves nothing to the imagination.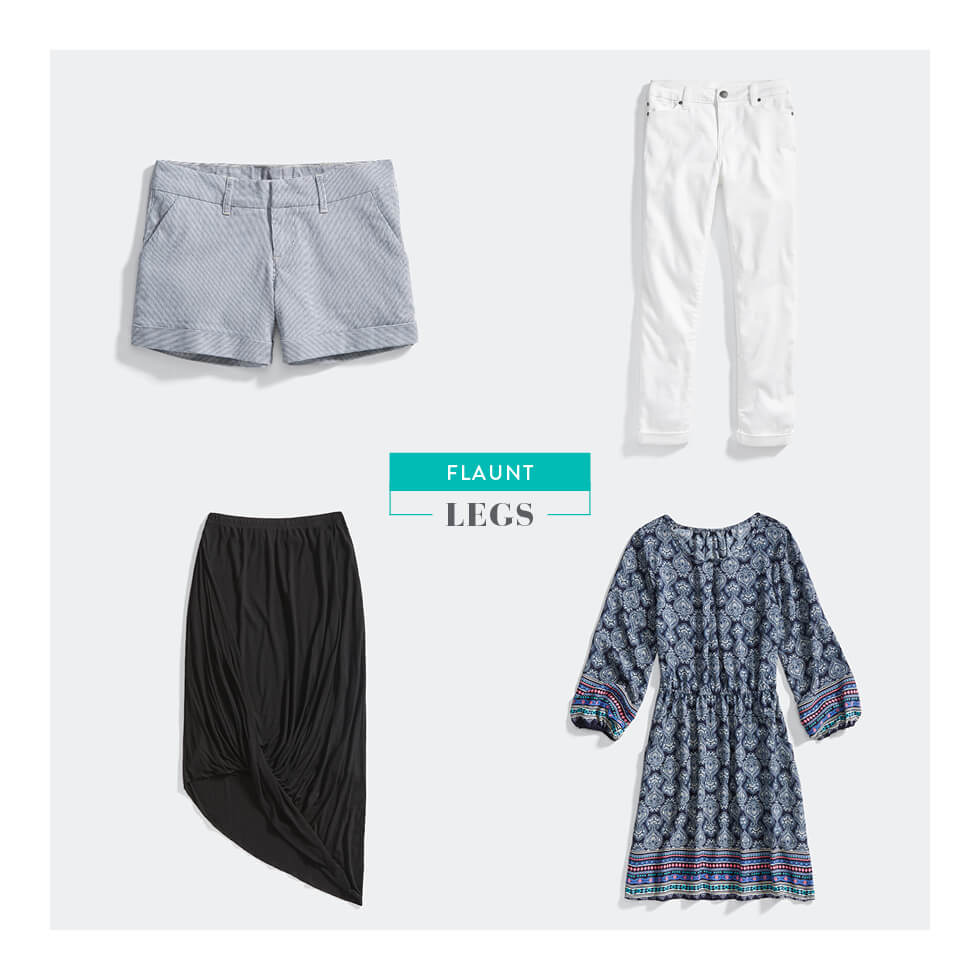 FLAUNT YOUR LEGS
Showing off your legs is incredibly liberating. For those of you with mile-long gams, muscular calves or shapely stems, show them off with tight white pants & shorter hemlines.
Striped shorts: Shorts with vertical details like seersucker stripes or pleats pull the eye downward to highlight your long limbs.
White denim: White jeans have no secrets. So if you're willing to flaunt it all, try a super-skinny pair.
Asymmetrical skirt: Hiked-up hemlines show off some thigh! Wear with heels for maximum impact.
Short dress: The holy grail of confidence. To draw focus to your great gams, opt for a dress with long sleeves.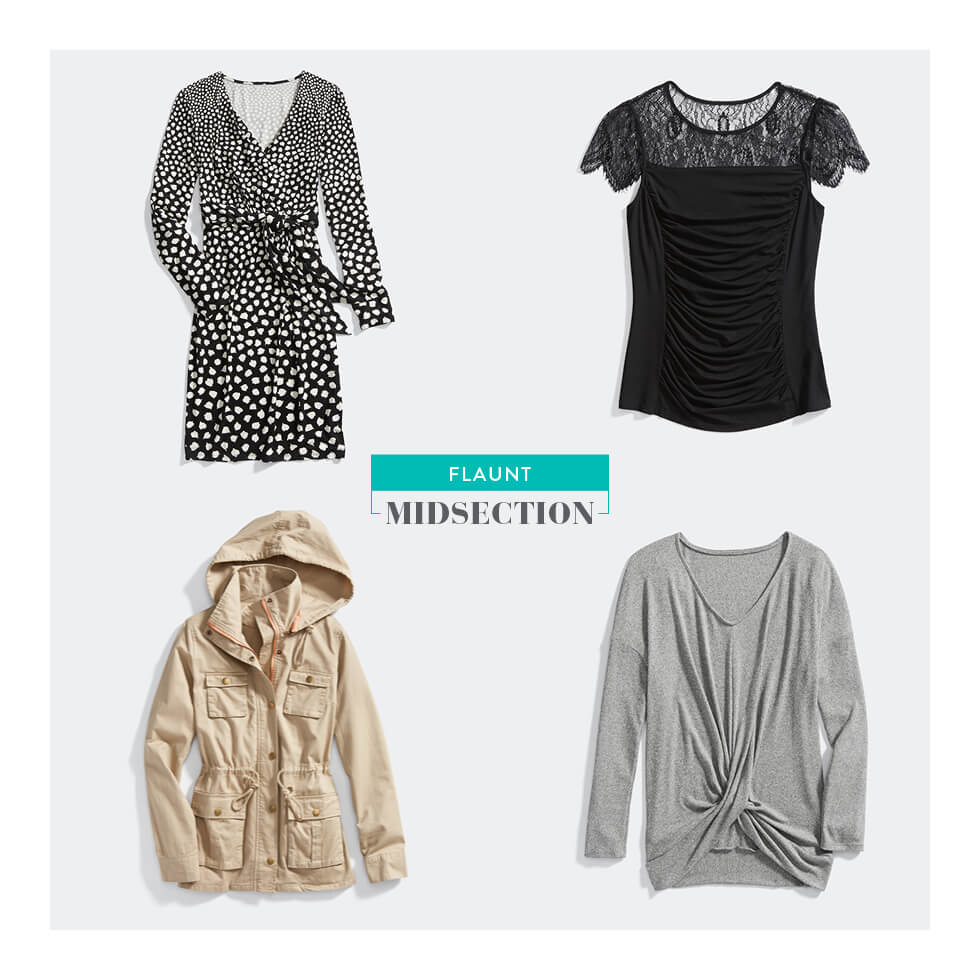 FLAUNT YOUR MIDSECTION
If you have washboard abs, a sexy midriff or a toned tummy, more power to you! It's time to flaunt your midsection with form-fitting styles, like these key pieces.
Wrap dress: Call attention to your midsection with a printed wrap dress. Bonus points for a waist-flattering skinny belt.
Front ruching: Fabric details on your torso like ruching hug your frame & define your middle.
Tie-waist jacket: Even outer layers can emphasis your tight tummy. Look for a tie-waist jacket to cinch in heavier fabrics.
Knot-detail top: Knot details at the waist, whether in front or to the side, usually crop a top short to show a little skin.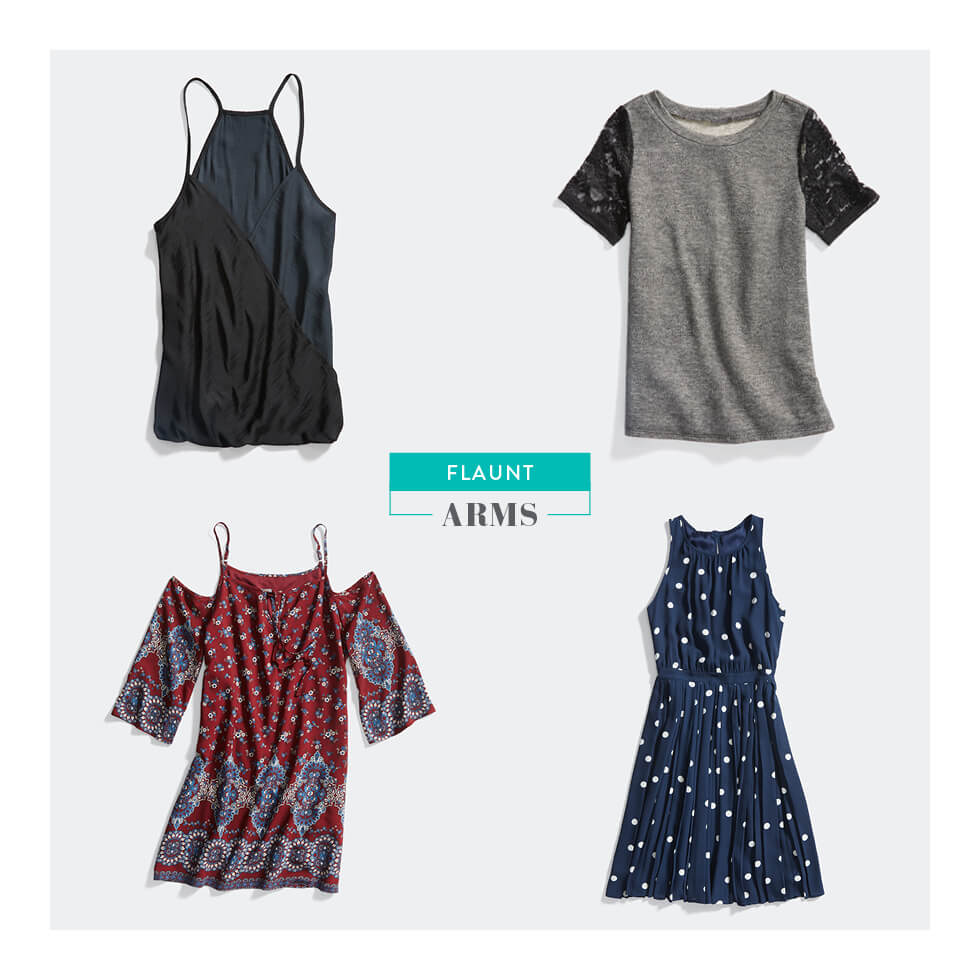 FLAUNT YOUR ARMS
Showing some shoulder is always in style. If you love yours, you have the right to bare arms (we couldn't help it). From tanks to tiny straps, here are styles to help you embrace your beautiful biceps.
Strappy tank: With tanks, the strappier the better! Try an extreme style like a halter to really reveal all.
Lace sleeves: Subtly highlight toned triceps with an updated raglan style that has revealing lace details.
Shoulder cut-outs: Lucky you—off-the-shoulder tops are all the rage right now. Wear this trend with abandon.
Racer-back dress: Show-off your shoulders & back at the same time. This subtle cut draws attentions to your toned top half.
Did you identify your favorite features & select a few styles to try? Now tell your Stylist! Want to take it step further? Learn how to downplay your challenge areas.