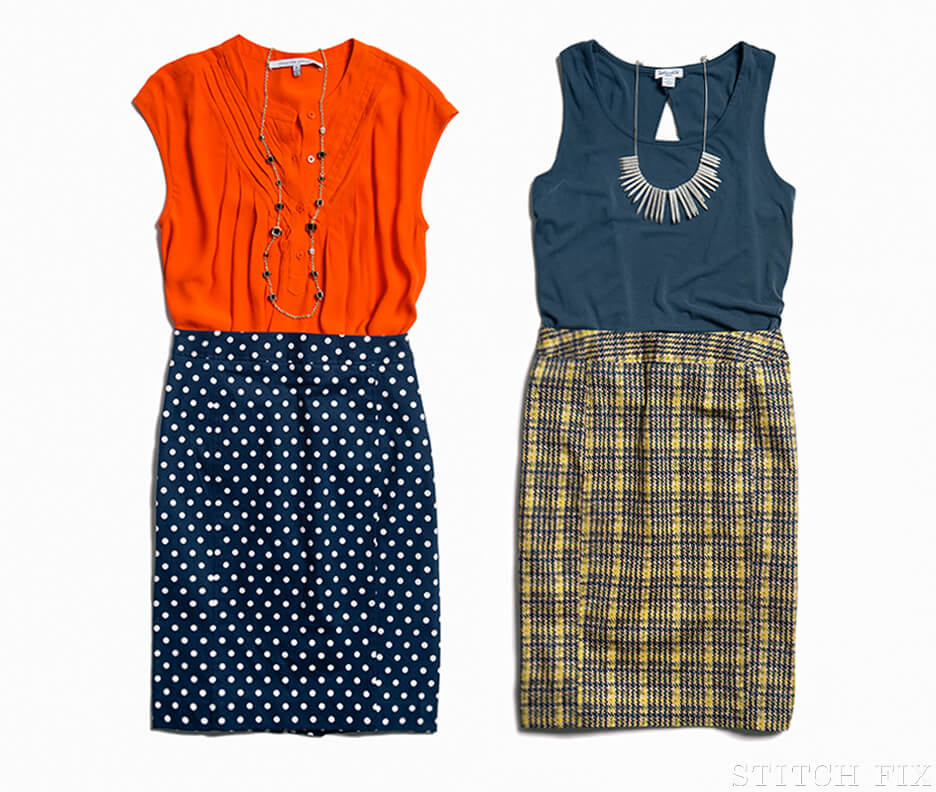 Bored with black? Mix up your look with a patterned pencil skirt. The beauty of a pencil's conservative silhouette is that, even when splashed with a wild print, it's almost always work appropriate. Whether you go preppy with polka dots or toughen your look with an edgy plaid, you can play up your personal style without losing your professional polish.
Here are three tips to keep in mind when selecting and styling your patterned pencil skirt:
1. Fit Matters: Your pencil skirt should hug your figure, but not so much so that it causes unflattering bulging or becomes uncomfortable. While a fail-safe length is a hem that hits just above the knee, you may want to go shorter to elongate the look of your legs, or longer if you're on the taller side or want to create an extra-sleek look.
2. Go Solid On Top: To balance out a busy pattern, your best bet is to stick with a solid color top. This also helps ensure your skirt remains your outfit's star attraction! We like to play up the contrast between dark and light. If your skirt is a darker hue, choose a brighter top, like we've done in our polka-dot look above, and vice versa.
3. Tucking Is Optional: While the traditionally worn tucked-in shirt shows off your curves and helps create an hourglass shape, it's not your only option. An untucked top can be equally stylish, and is a great choice if you'd prefer to keep your stomach under wraps. To prevent the look from becoming sloppy, choose a top with a slim cut and a shorter length. You'll maintain your body-conscious, elongated look, feel comfortable—and look great!
Like the items you see here? Mention them in your note to your stylist when you schedule your next Fix. (If you already have a Fix scheduled or receive your Fixes automatically, you can now update your note to your stylist, too!)
Visit our Pinterest boards for more inspiration!