This holiday season, we're here to help you make seamless, quick and stylish transitions between work and social events. Take your outfit from work-appropriate to party-ready in a matter of minutes by focusing on pieces that you can easily re-style!
The Blouse
During the day, a blouse paired with a fitted trouser and a neutral shoe will keep you looking chic and office appropriate. Add coverage with a cami and finish your buttoned up style with your favorite blazer.
To dress yourself up for the party, simply switch out your trousers for a knee length skirt and add pops of color with a brightly hued pump and a sparkling statement necklace. Swap your functional computer bag for a festive clutch and you'll be on your merry way!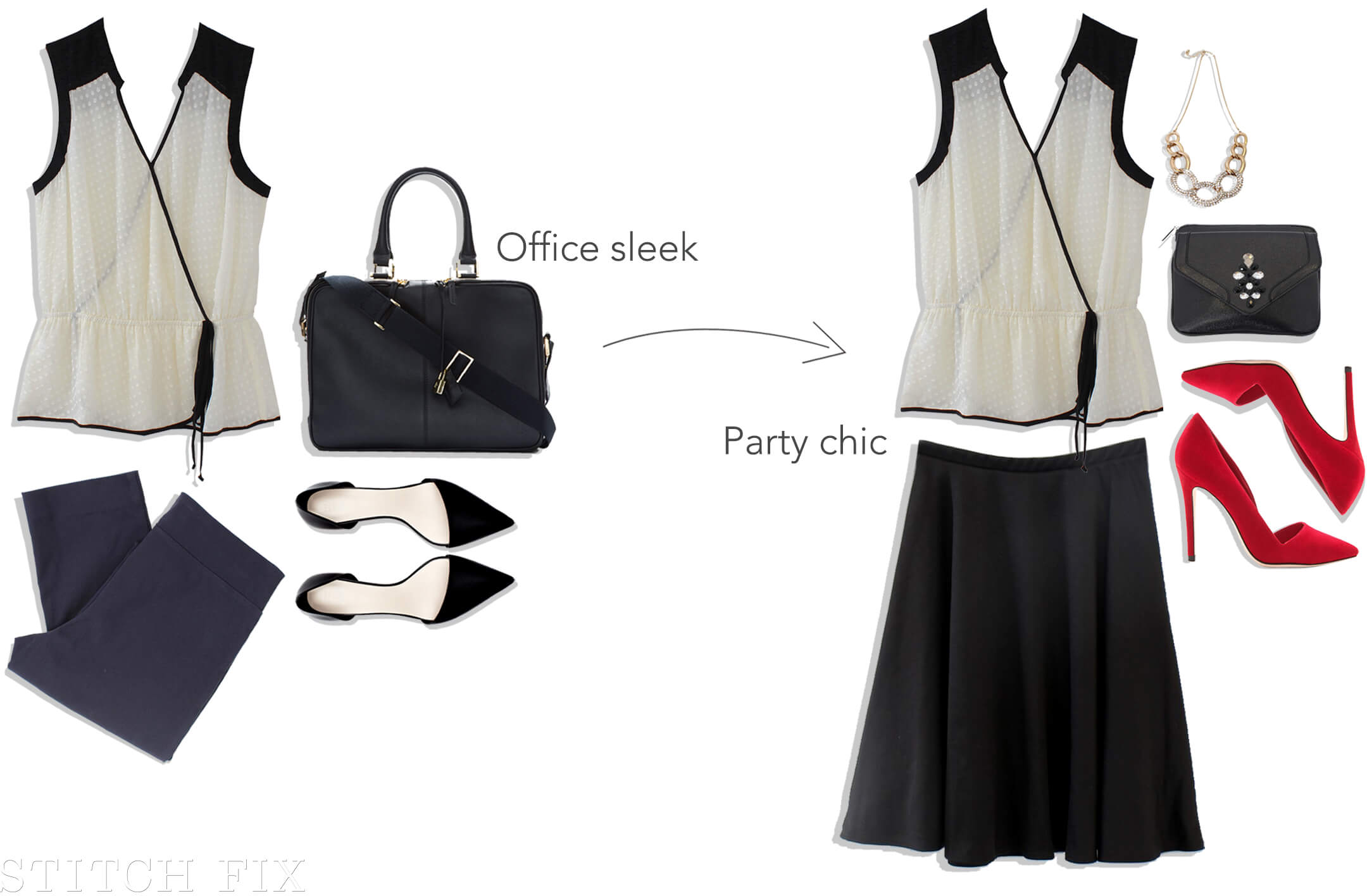 Work Look
Blouse: Bennet Swiss Dot Cross-Front Blouse ($78)
Pant: Emer High Waisted Cropped Trouser ($98)
Bag: VIE Black Leather Trudeau Computer Bag
Shoe: alice + olivia Dina Suede Pump
Party Look
Blouse: Bennet Swiss Dot Cross-Front Blouse ($78)
Skirt: Broadway Swing Skirt ($58)
Necklace: Lindsey Rhinestone Link Necklace ($38)
Clutch: Natasha Jewel Cluster Clutch ($58)
Shoe: Zara Kitten Heel Leather Vamp Shoe
The Skirt
For a polished professional outfit, try wearing a skirt with a collared blouse, sweater and flats. Don't forget to add a pair of tights to  keep your outfit cold weather appropriate! 

Take your look from daytime to dazzling by changing into a sparkling top that you can tuck into your skirt for a streamlined silhouette. Complete your look with a fun pair of pumps, a piece of statement jewelry and a small shoulder bag for holding your party time essentials.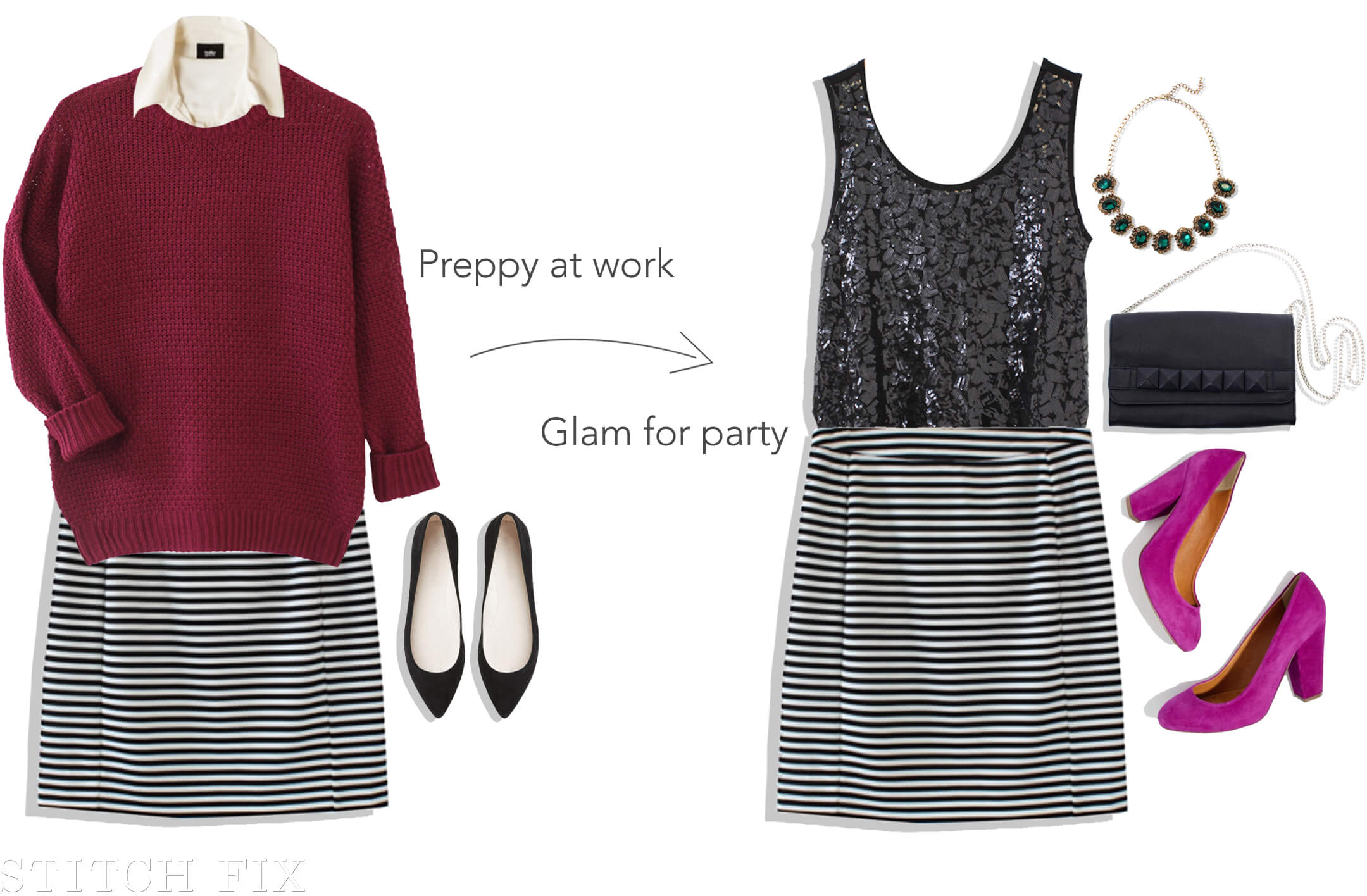 Work Look
Sweater: Hartford Waffle Knit Pull-Over Sweater ($58)
Skirt: Walt Striped Skirt ($68)
Flats: Witchery Pearl Pointed Flat
Party Look
Top: Dollings Sequin Detailed Knit Tank ($68)
Skirt: Walt Striped Skirt ($68)
Heels: MADEWELL The Frankie Pump in Suede
Necklace: Green Victoria Antique Stone Necklace ($48)
Bag: Natasha Stud Detailed Clutch $48
The Dress
A dress is easy to transition from the office to the party with minimal effort. For a pulled-together look for your work day, accent your dress with a cropped cardigan and pumps. When it's time to head to the party, simply remove the cardi and add some subtle sparkle with a crystal necklace and clutch.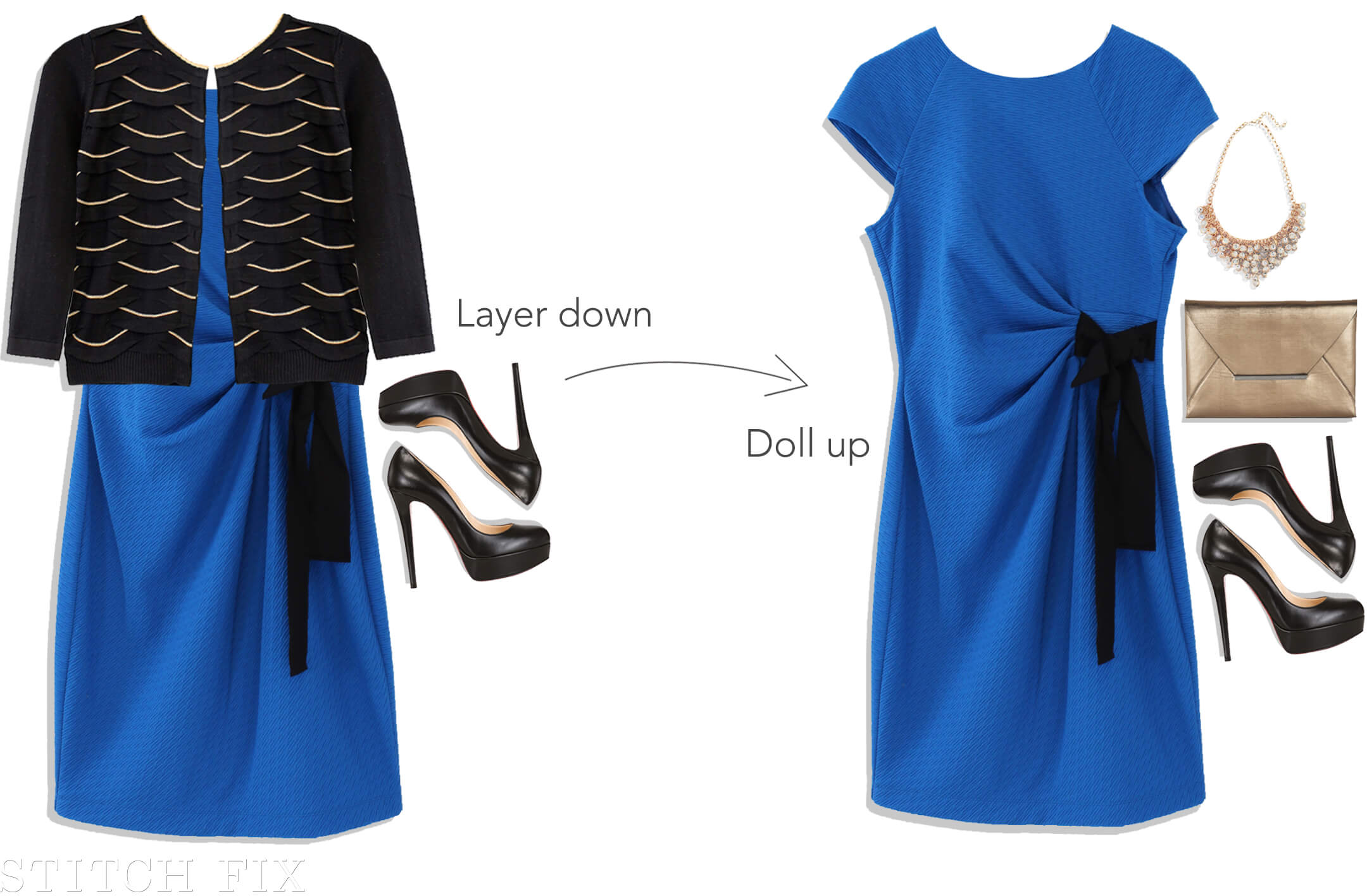 Cardigan: Lucille Tiered Button-Up Cardigan ($88)
Dress: Eve Side Bow Detail Textured Dress ($138)
Shoes: Aldo Black Platform Pumps
Clutch: BCBG Metallic Clutch
Necklace: Jules Crystal Seed Studs Bib Necklace ($36)