We love seeing how our Stitch Fix clients bring their Fixes to life, which is why we were particularly excited to find @lifeasallison's #dresswithus series on Instagram. With colorful Stitch Fix pieces and her adorable daughter by her side, Allison uses her Stitch Fix Style Cards to build inspired and Instagram-ready outfits. Here's a few of her tips for how she uses and organizes her Style Cards to help her organize, shop and get dressed!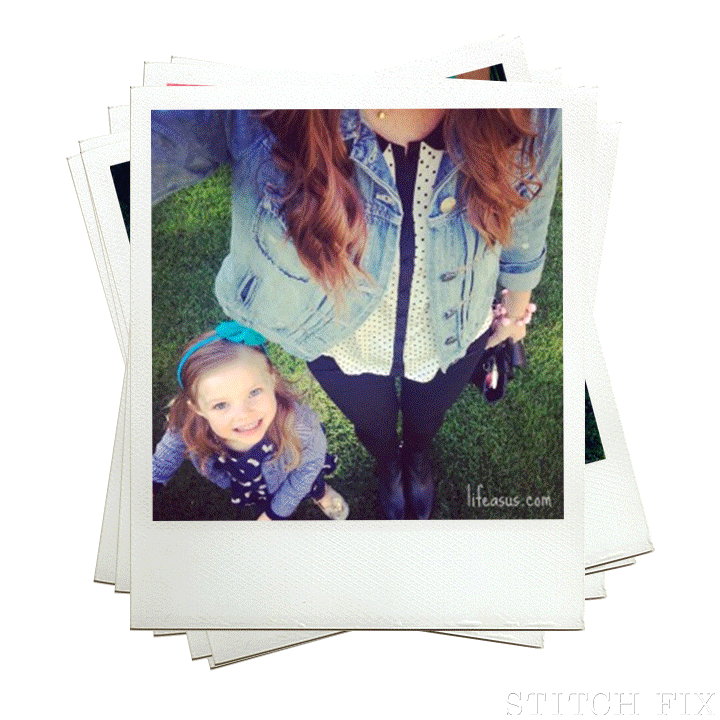 Get Organized
Log each Fix item with a picture of your style card, which I take using my iPhone or iPad, for future reference. I use Bento/FileMaker Pro (although unfortunately not cloud based). Other great online (and cloud based) options include Evernote, Google Keep, Microsoft OneNote, or DropBox. Be sure to log the "Item Type" (i.e. Blazer, Jeans, Blouse, etc.), "Type of Wear" (i.e. Work, Business Casual, Everyday), "Color", "Description", "Brand", "Pattern", "Extras" (Note if extra buttons or thread for repairs came with item), "Suggestions" (Outfit pairing ideas by your stylist).
Sort It Out
Sort by item type, color, etc. and enjoy the ease of "flipping" through each Stitch Fix item you've received via your phone, tablet, or laptop. I do it right in front of my closet as I'm deciding what to wear and how best to style it.
Pick A Piece
Chose your Stitch Fix item for the day. Since each style card gives you both a casual or dressy option, next decide which look you want to achieve.
Find The Matches
Look in your closet for any exact matches (item type and color) to pair with that Stitch Fix item as recommended on your style card. For example, on the below style card, I already owned the suggested light blue denim jacket, white jeans, and black purse, but not the white flip flops.
Look At Colors
Next, take note of each color that is pictured with your Stitch Fix item. This is important because you may overlook some bold colors that will pair well with it.
Work With What You Have
If you do not have something that is recommended in the right color, then look for that piece in another color that you took note of in step 5. I do not have white flip flops but do have gold heels that match the gold jewelry so I chose those instead!
Finish Your Look
Don't forget accessories as they can really pull an entire outfit together. I loved the orange statement necklace recommended in the dressy version but since I don't have a necklace that color and I knew that gray was in the color pallet, I chose a large dark gray bubble necklace.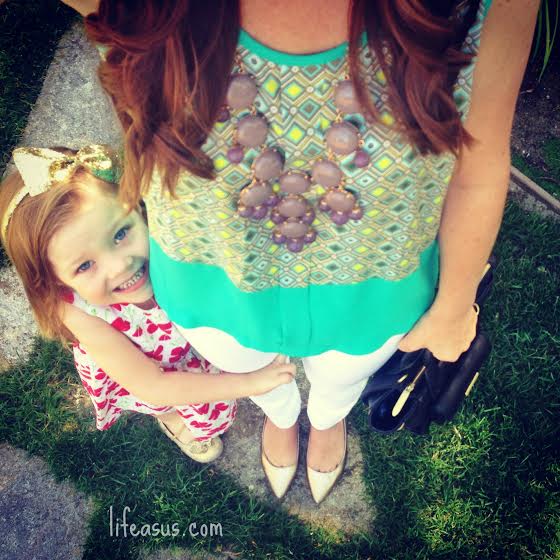 And of course…
Be awesome today!
More tips
1. Chose your outfit the night before (or even better, chose a weeks worth of outfits on Sunday). This makes mornings run much more smoothly, especially for those with small children.
2. Organize your closet by clothing type (tanks, short sleeve tops, long sleeve tops, sweaters, blazers, jackets, dresses, etc) and then by color. This helps to speed things up as you style your outfit.
3. When shopping on your own, refer to your style cards for those pieces that you lack in your closet but would pair so well with your Stitch Fix goodies. This is why having digital access to your style cards is important. I've even begun to select clothing that reminds me of something Stitch Fix would pick, and often times I end up seeing it pictured in other people's Fixes!