Thanks to the almost 1000 of you who entered our MyDayinStitchFix Pinterest contest. We had so much fun checking out all of your boards and loved the style, humor and creativity brought to life in your entries. It was very hard to choose just one winner but we based our final selection on:
Thoroughness of story
Creativity
Incorporation of Stitch Fix styles
We're thrilled to announce that MimaCat, whose depiction of the day of her engagement (complete with two kittens, one goat and three outfit changes) is the official winner of the #MyDayinStitchFix contest!
(click the image to see the full board)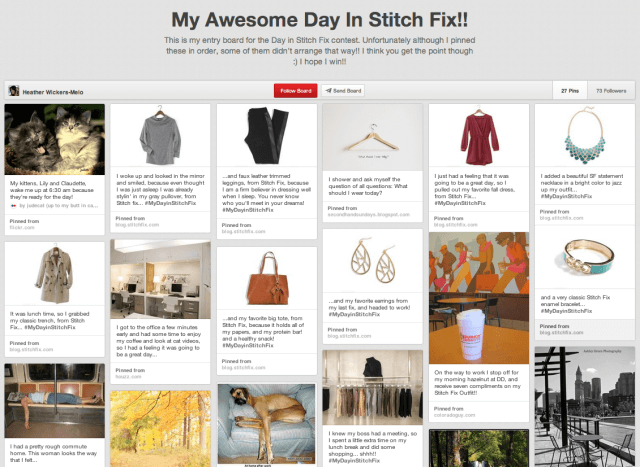 We were also also thoroughly wowed by several other entries and wanted to give them not only an honorable mention, but also $50 Stitch Fix gift cards! Surprise!
We highly encourage you to check out these boards too:
We couldn't control our giggles when reading this comical story. 
A beautiful depiction of a day in her life using black and white images of an actual day in her life.
Best in Espionage: Imbeths
A thrilling spy story through the streets of London all in Stitch Fix. Well played, 006.
Food, photography, music and some beautiful design elements make this a great board.
Thanks again to all who entered the contest – we love seeing your style reflected through your Pinterest boards. If you haven't already done so, be sure to upload your Pinterest board link to your Style Profile so that your stylists can use it to make your Fixes even better!