Name: Blair McLeod
Blog: Wild & Precious
Location: Nashville, TN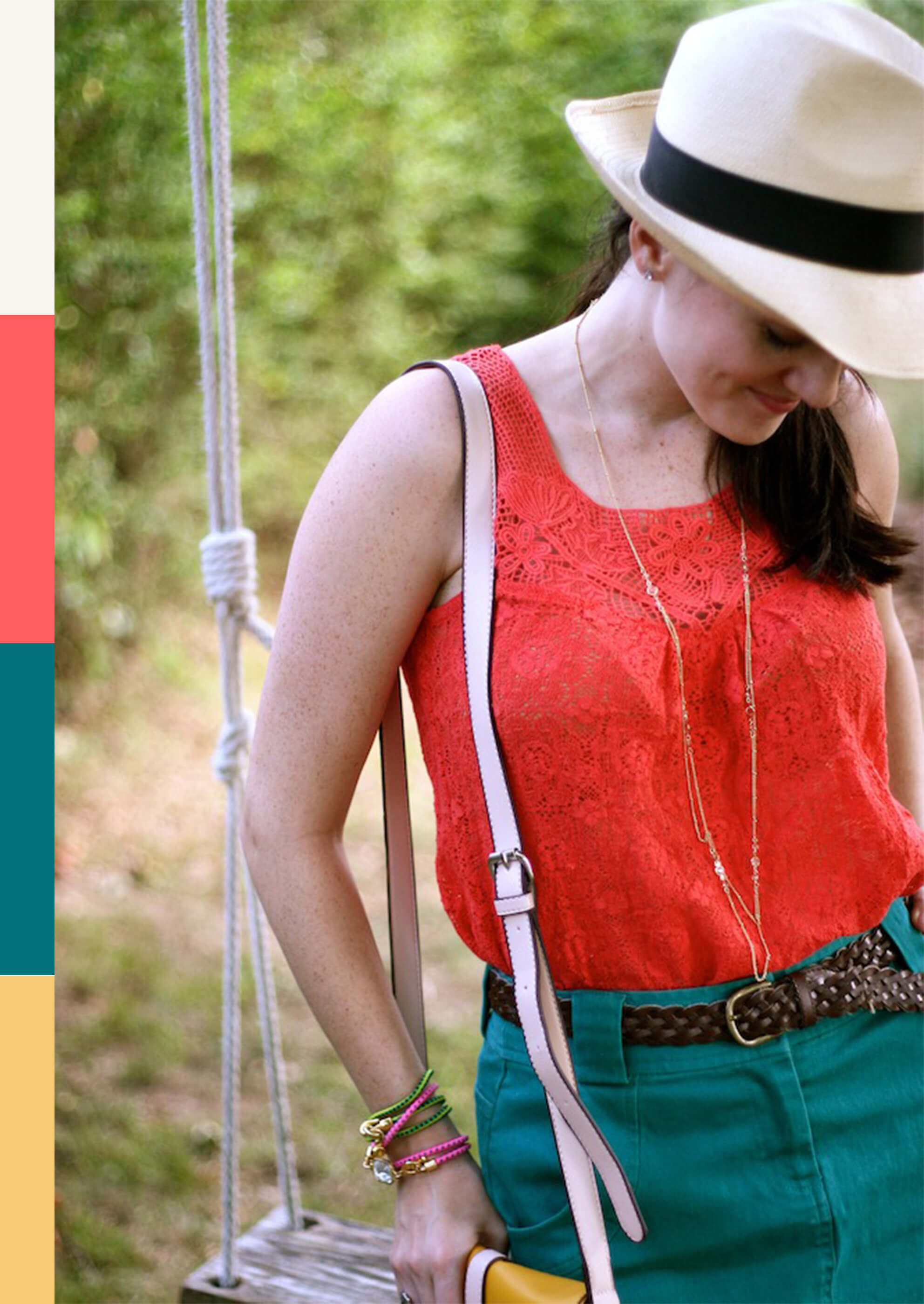 Stitch Fix: How does style fit into your day-to-day life?
Blair: I'm always more productive when I'm dressed, and not just dressed, but feeling good in what I'm wearing. I really enjoy the process of picking out my clothes at the start of my day- it's kind of like making morning coffee! Sometimes, I just look into my closet and put pieces together while other times I make up an outfit in my head while taking a shower. When I think of style, I think of comfortable confidence. What that looks like for me changes on a daily basis depending on what's on my plate.
Stitch Fix: How has your style evolved as a mom?
Blair: I actually feel like I've become more stylish as a mom! Part of that is because prior to becoming a mom two years ago I had a desk job with a dress code that limited my style options. Now that I have a more flexible job as a mom of a little girl, I have a lot more room to explore my personal style.
As a mom, I usually have to go with the flow. I love versatile pieces that can be paired with several different items in my wardrobe. For example, if I get ketchup or some sort of baby spill on my top I can quickly throw it in the laundry and put on a new one without having to change the rest of my outfit.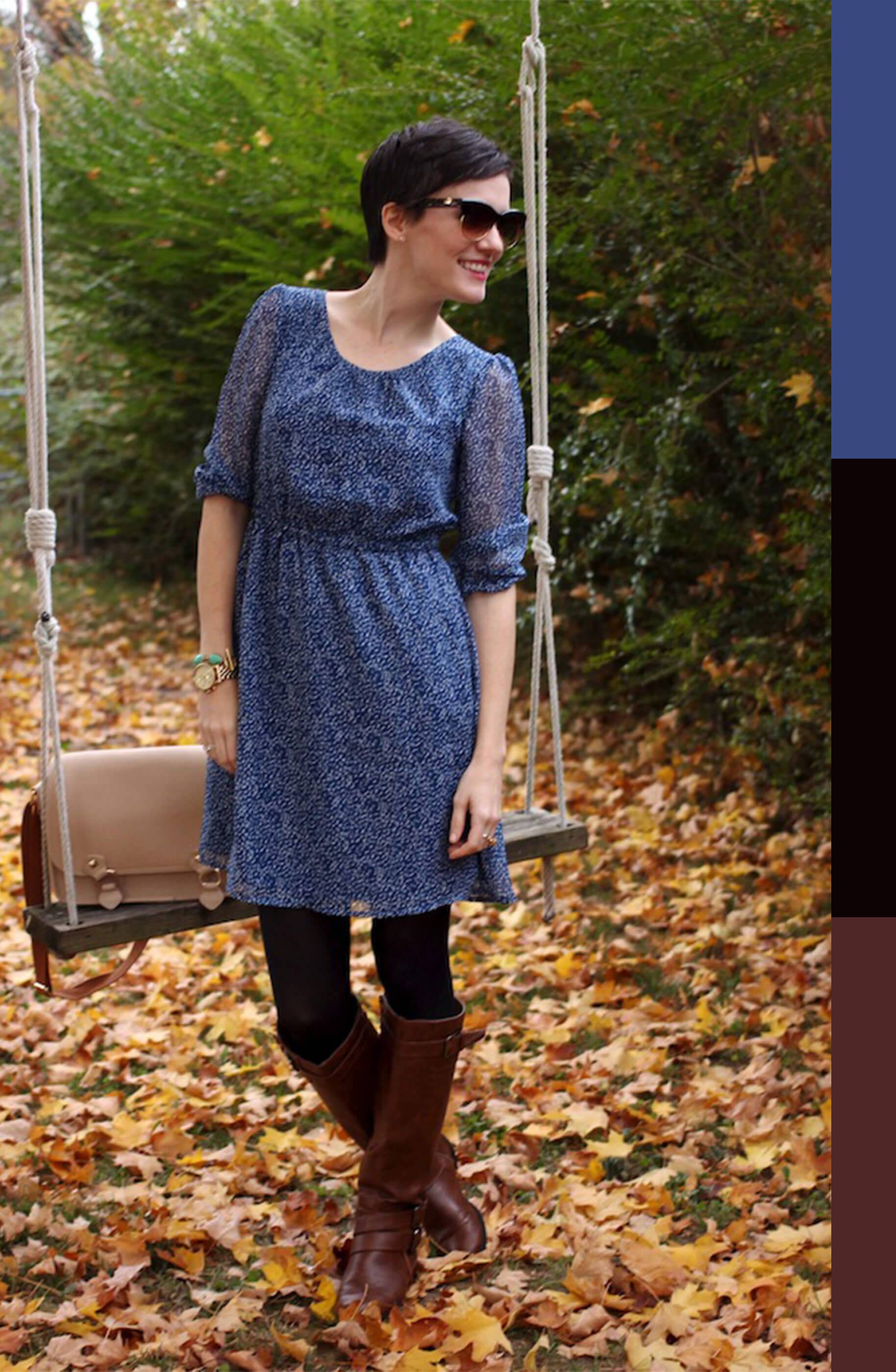 Stitch Fix: Can you give us three words to define your personal style?
Blair: Gosh, this is kind of hard because I tend to jump from one look to the next! I would say Casual, Chic, and Comfortable
Stitch Fix: What is your biggest challenge when it comes to fashion and style?
Blair: I don't think there really needs to be anything hard about it! If you wear what you like and are confident in who you are then you'll always feel good. There are some times where you get an idea in your head of what you want an outfit to look like and it can be hard to execute because you might not have the right pieces at your disposal. However, that's where it's fun to be creative with what you have, and, in all honesty, that's when I turn to Stitch Fix!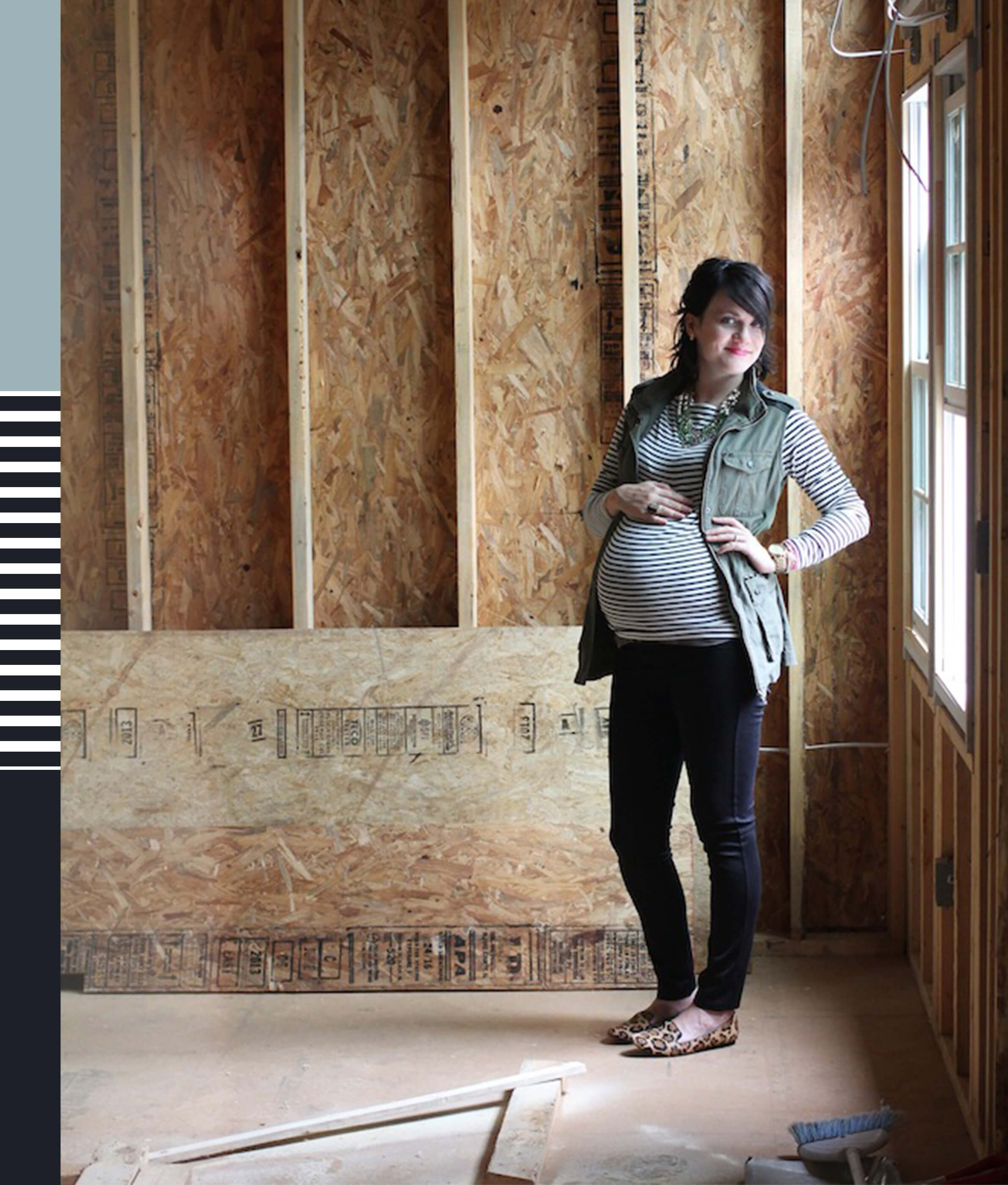 Stitch Fix: Show us your styling skills! Can you style up an outfit with some of your favorite Stitch Fix pieces? Tell us what they are and how you styled them!
Blair: For the past nine months I have enjoyed using Stitch Fix during every month of my pregnancy. Even though Stitch Fix doesn't carry maternity clothes, I have still added some great pieces to my wardrobe throughout my pregnancy that I have been able to wear with my baby bump and will continue to enjoy after. You can read more of my Stitch Fix maternity tips here.
Here is an outfit I've styled with some of my Stitch Fix favorites. This is something I would wear to church or on a date with the hub or maybe out for some girl time (brunch and a pedicure? Yes please!).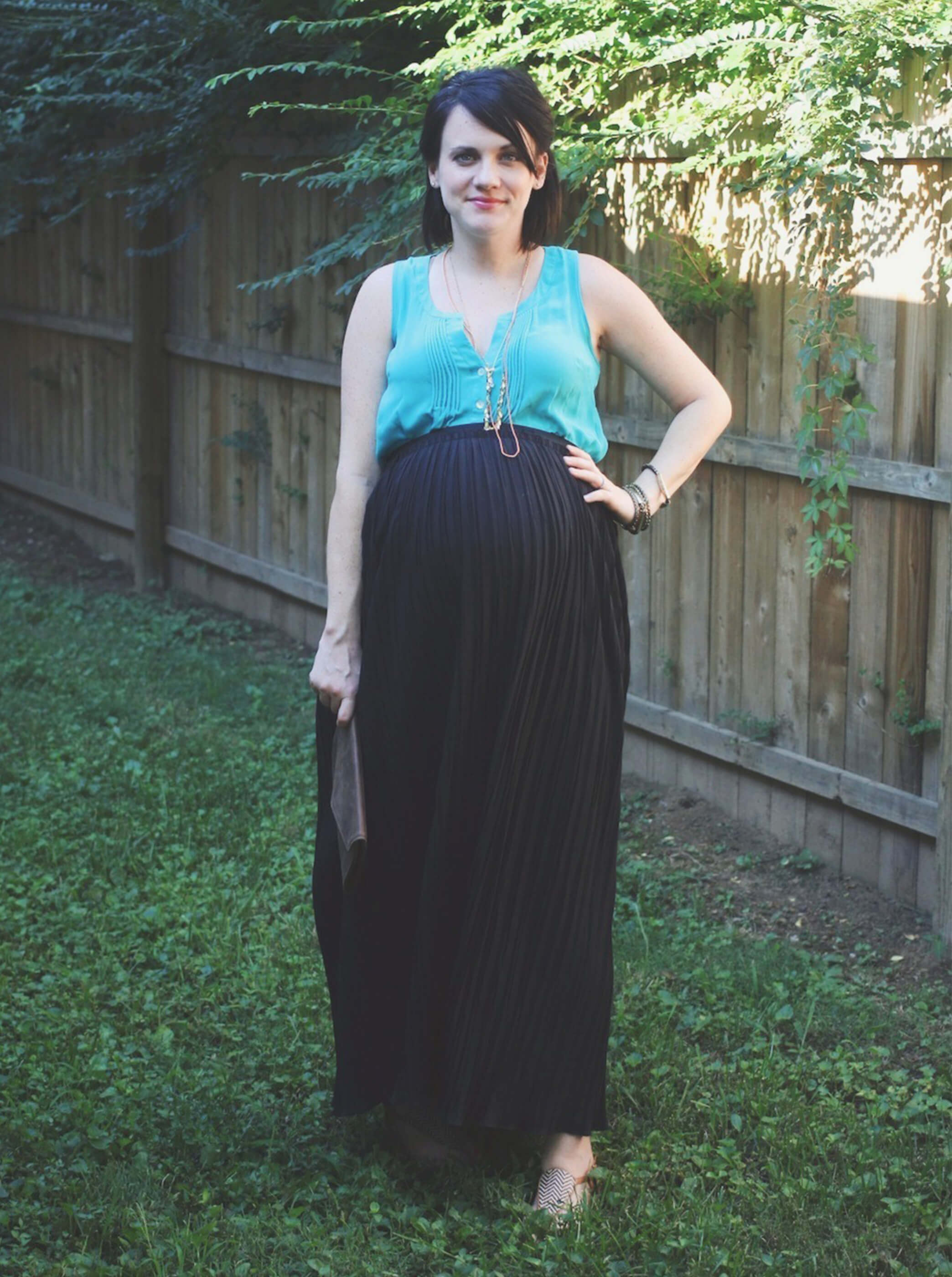 Lottie Silk Blouse: I first starting wearing this piece back in April when my bump was still pretty little. It's great because it is longer and a bit flowy so I was able to wear it as my belly grew. I'm looking forward to wearing this without the bump and paired with some faux leather leggings, a chunky cardigan and heels!
Please Maxi skirt by MM Couture: Over the past year, this has become one of the most beloved pieces in my wardrobe; you can see when I first got it & later on with my pixie cut. I wear this skirt ALL the time, at least once a week before and during my pregnancy and plan to continue after the baby. I love it with denim, tied tanks, tucked blouses, pulled up tight, worn lower, dressed up or dressed down.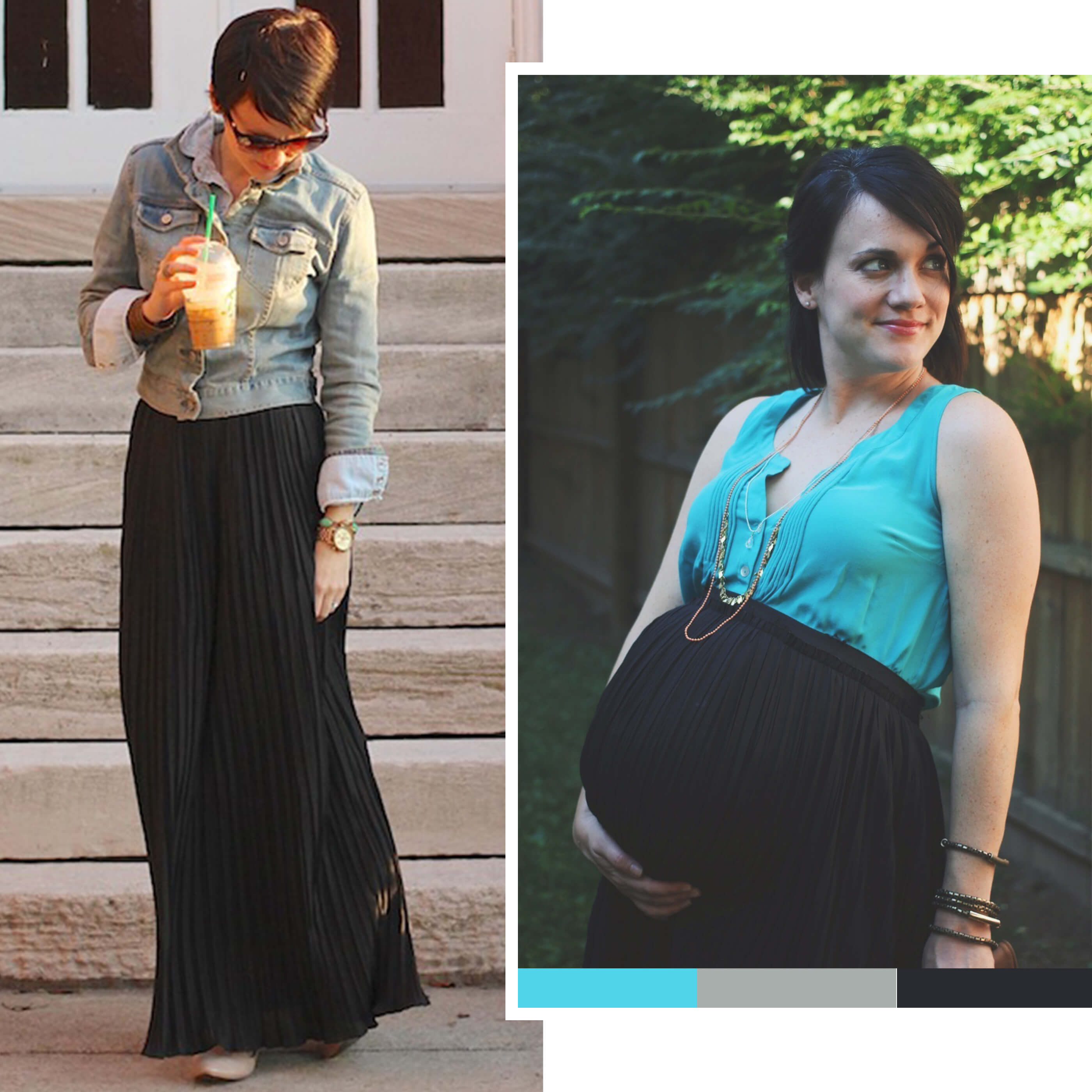 The Accessories: During my pregnancy, I've focused on building my jewelry collection! When you aren't liking the way your clothes fit while pregnant, fresh, new jewelry can totally brighten your day. The necklace is one of my absolute favorites: I love the layers and colors. It wasn't really until I started using Stitch Fix as a personal styling service over a year ago that I really started exploring gold, but now it's all I want to wear. What I love about these accessories and (most of) the pieces I get from my Stitch Fix Stylists is how versatile they all are!
Stitch Fix: What tips do you have for women out there who are trying to discover their own personal style?
Blair: Be brave. Be bold. Don't be afraid to try something new or put your own spin on something you've seen. If you walk with confidence and hold your head high, you will automatically exude style. '
Follow Blair
Make sure to stay in touch with Blair as she continues her adventures in motherhood and style:
Facebook: https://www.facebook.com/wpblog
Twitter: @blairita
Pinterest: http://pinterest.com/wildandprecious/
Instagram: @blairita