Welcome to our new monthly series: Spotlight On Style! Each month one of your Stitch Fix stylists will break down a popular trend and tell you how to get the look yourself! Kicking things off, we have Margaret sharing her love of menswear and easy-to-follow tips for how to recreate the style yourself.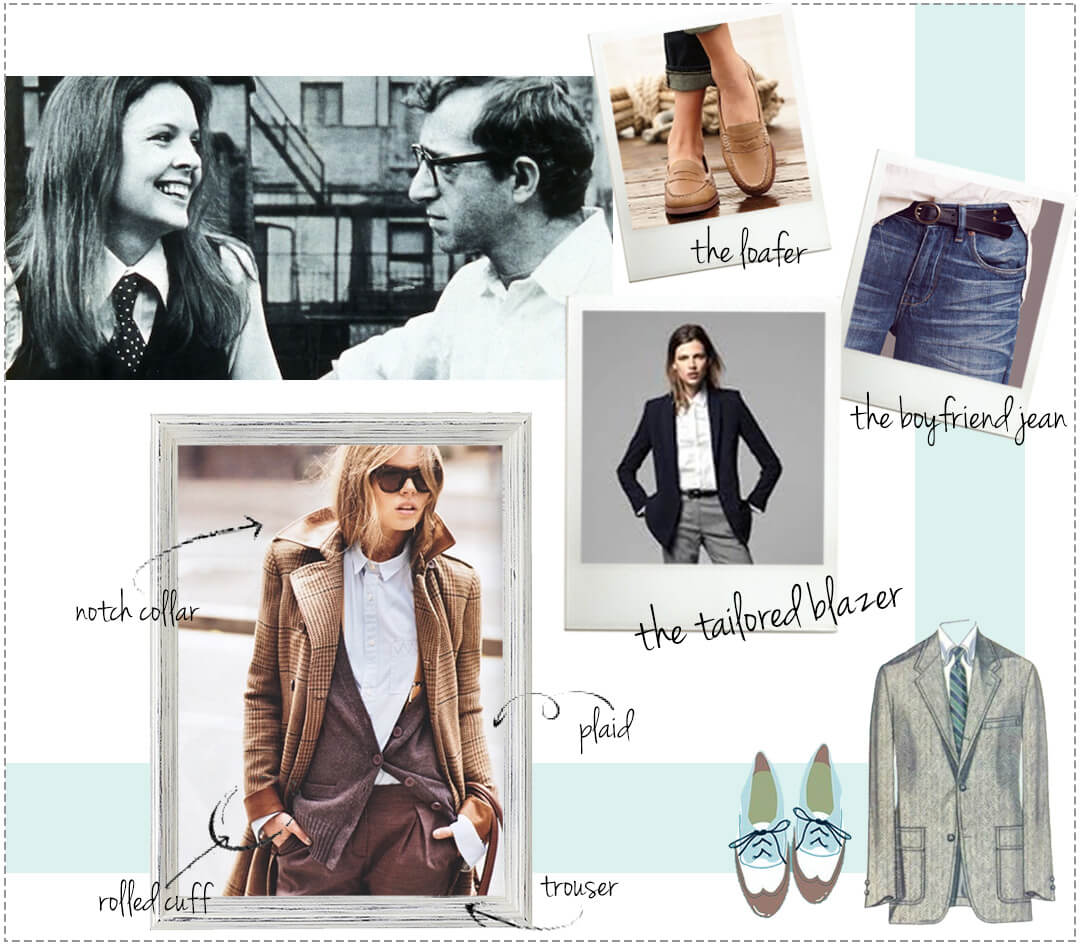 Style Inspiration
"When menswear comes to mind, I do not think of men, I think of women. Seen increasingly on the street and on style blogs galore, the menswear trend shows how we have taken the rules of masculine dress and redefined them as our own.
"I first subscribed to the throw-a-blazer-over-it school of thought after I couldn't stop watching Annie Hall in college. Compounded with my love of Victorian literature and the dapper dandies of yore, adopting menswear styles as wardrobe staples seemed like a natural evolution. My style transformation was, of course, met with skepticism by my most honest of critics: my brother. When he asked me, "why do you dress like a boy?" I remember being befuddled and insulted. I was convinced that he would never understand the subtle nuances of style nor appreciate the ability to be at the same time femininely sweet and rough'n'tumble tomboy.
Best of Both Worlds
"In truth, as a woman, we have the best of both words. We can pair a delicate dress with a heavy, structured military inspired coat and suddenly we have elevated ourselves into the realm of the unexpected.
"The unexpected is exactly why I love taking a page out of the boys' playbook and you should too! Stealing from the boys is an easy way to look cool, effortless and always put together. The structure and tailoring that you get from wearing menswear pieces always looks polished and sophisticated. Just add a feminine twist to make it your own!
Get The Look
"Think: tailored blazers, pinstripes, loafers, boyfriend jeans and trousers.
Start with a perfectly tailored blazer in either navy or black.
For work, pair your blazer with trousers and a silk blouse with softer details.
For a more casual style, slip on your favorite skinny jeans in a dark wash and a casual white T-shirt topped off with your blazer.
Cuff your jeans and throw on some Sperry Top Siders for an easy, chic look that can take you out to lunch or on errands during your weekend.
If you live in a colder climate, try a pair of riding boots over your skinnies for an equestrian-inspired, menswear look.
If you love this look, let your stylist know to send you some menswear inspired pieces in your next Fix!"
XOXO,
Margaret
Margaret has loved fashion and style since she fell in love with an Armani dress on the red carpet at the age of 14. Her grandmother gave her an appreciation for sophisticated elegance and vintage coats and she loves making women happy through the small delights of Stitch Fix.