The key to styling printed bottoms–whether they are pants, skirts, shorts, or jeans– is to let the pattern act as the anchor of your outfit while keeping the rest of your pieces neutral or complementary in theme, color, or pattern. If you are ever in doubt, stick to neutrals throughout the look and you will never go wrong!
The Patterned Pants
With a bold, graphic print, we opted for solids in a neutral, yet spring-forward color palette. Turquoise is a beautiful complementary hue to orange, while the draped dolman shape works well with the loose fit of the pants. For a more pulled-together look, pair with a blouse and layer with a neutral statement piece. For both of these tops, simply tuck just the front of the top in for a playfully messy style or let hang naturally for a relaxed look.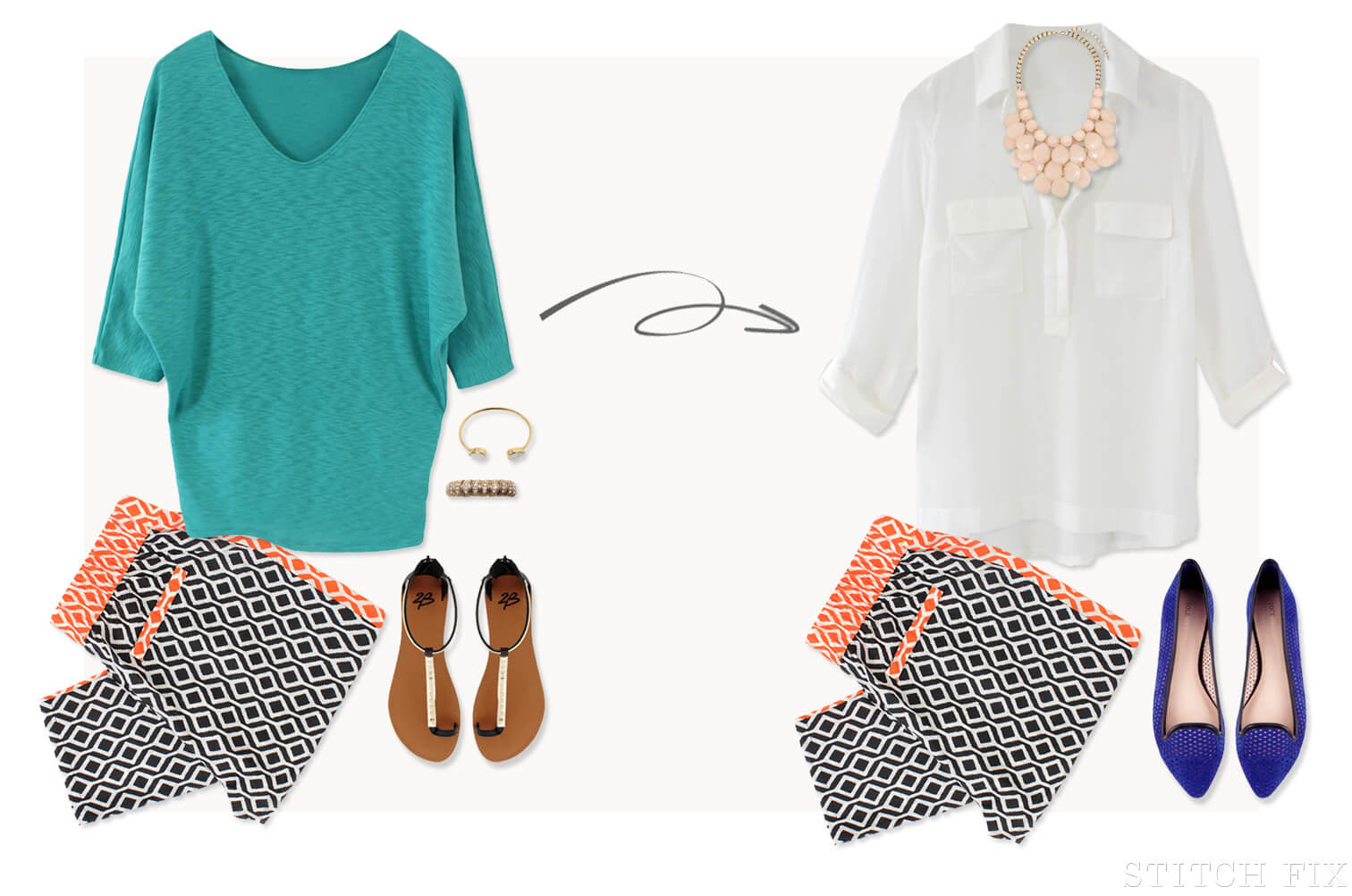 Top 1: Bowie Solid Dolman Sleeve Top ($58)
Top 2: Sherrie Pocket Front Mixed Material Blouse ($44)
Bottom: Iffe Geo Print Soft Pant ($68)
Necklace: Christy Layered Bauble Bib Necklace ($38)
Bracelet 1: Ally Teardrop Stone Bangle ($88)
Bracelet 2: Beverly Rhinestone Textured Stretch Bangle ($28)
Shoe 1: Bellini Flat Sandals ($25)
Shoe 2: Sole Society Lauryn pointed flat ($65)
The Patterned Skirt
A white top will make the white dots in this polka dot skirt really pop. We layered with a lightweight chevron scarf for a subtle mixed prints effect. Try a classic black blouse to instantly dress up this this classic print. Accessorize with a vibrant clutch to add personality and complete the look with a neutral shoe.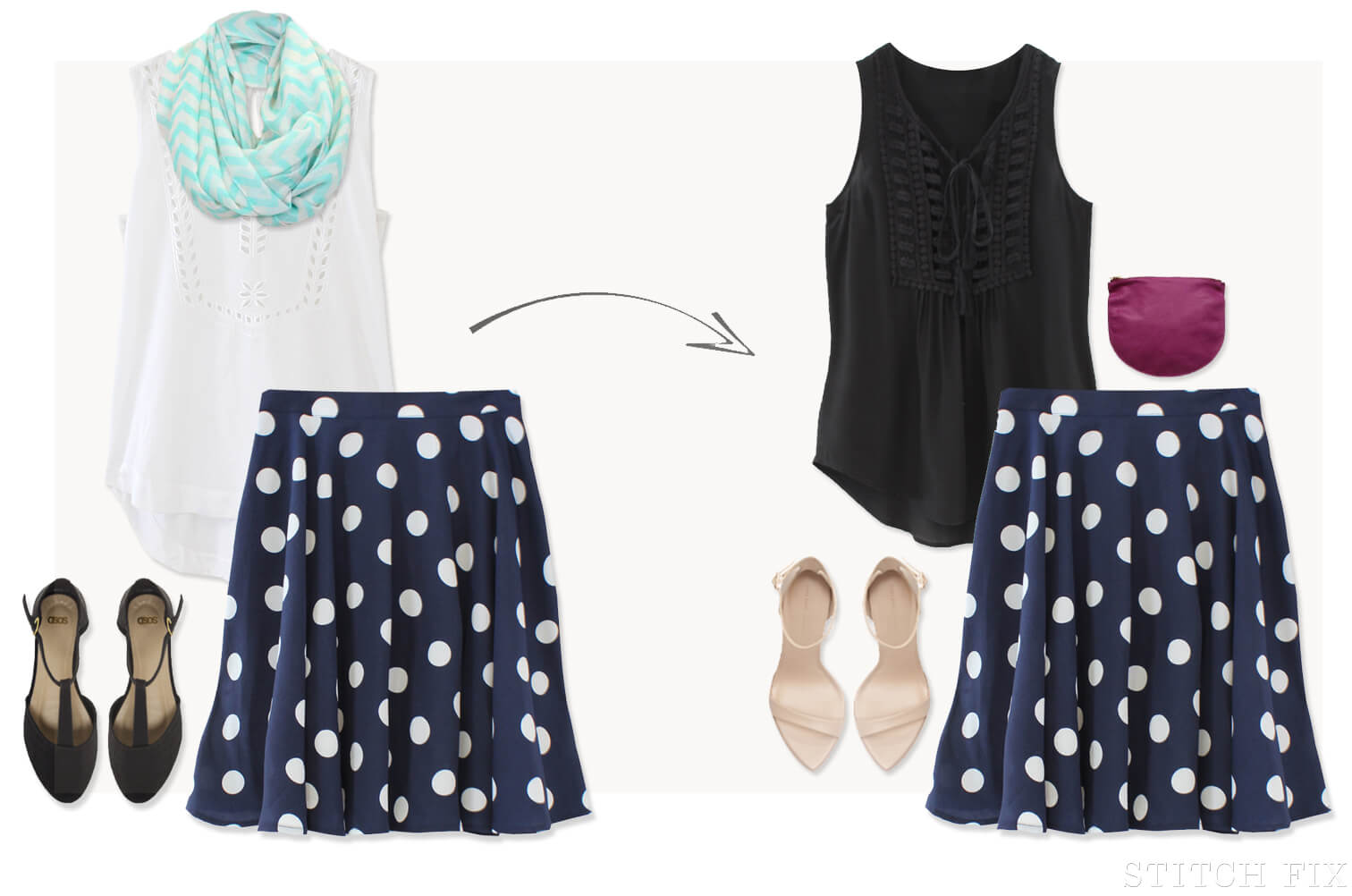 Top 1: Lanie Embroidery Detail Hi-Lo Tank ($54)
Top 2: Nori Crochet Detail Tie-Neck Silk Blouse ($78)
Bottom: Hanneli Polka Dot Swing Skirt ($54)
Scarf: Emily Lightweight Chevron Infinity Scarf ($32)
Bag: Norah Leather Clutch ($42)
Shoe 1: ASOS Jemima Flat Shoes With T-bar
Shoe 2: Zara Leather High Heel Sandal ($80)
The Patterned Short
A printed short is a great foundation for a mixed-print look and stripes are a simple pattern to pair with another pattern. For an evening look, try pairing your cool-colored bottom with a saturated warm tone, like red.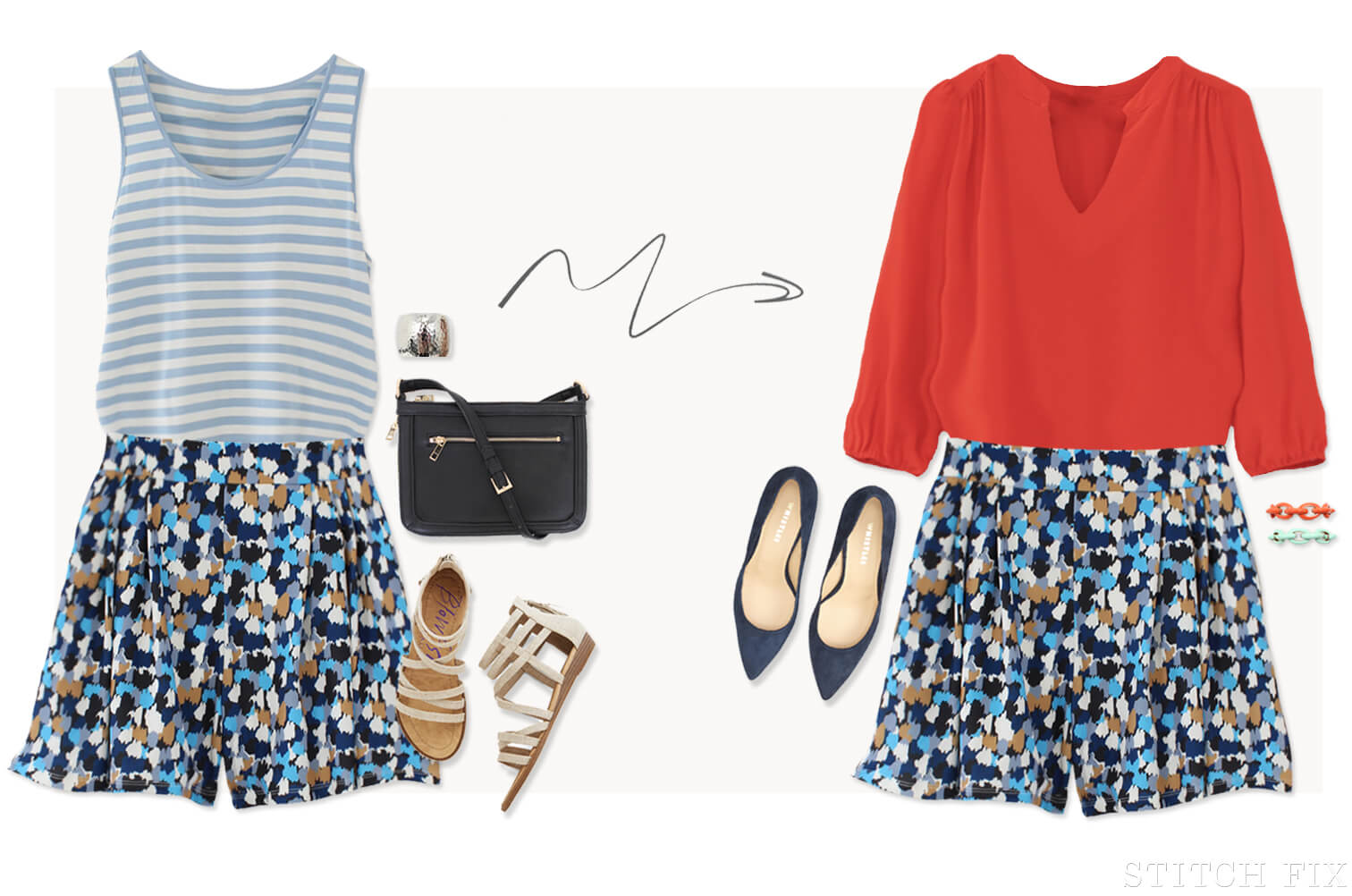 Top 1: Kira Mixed Stripe Racerback Tank ($48)
Top 2: Gazele Solid V-Neck 3/4 Sleeve Silk Blouse ($108)
Bottom: Kirin Abstract Print Soft Short ($58)
Bracelet 1: Lafayette Hammered Metal Cuff ($48)
Bracelet 2: Kassia Enamel Chain Bracelet ($58)
Shoe 1: Couldn't Be Better Sandal ($50)
Shoe 2: Cassini Mid Heel Suede ($76)