Whether you're single or taken, heading out for a fun girls' night on the town or dinner with your loved one, here are five ways to add a little extra love and style to your Valentine's Day.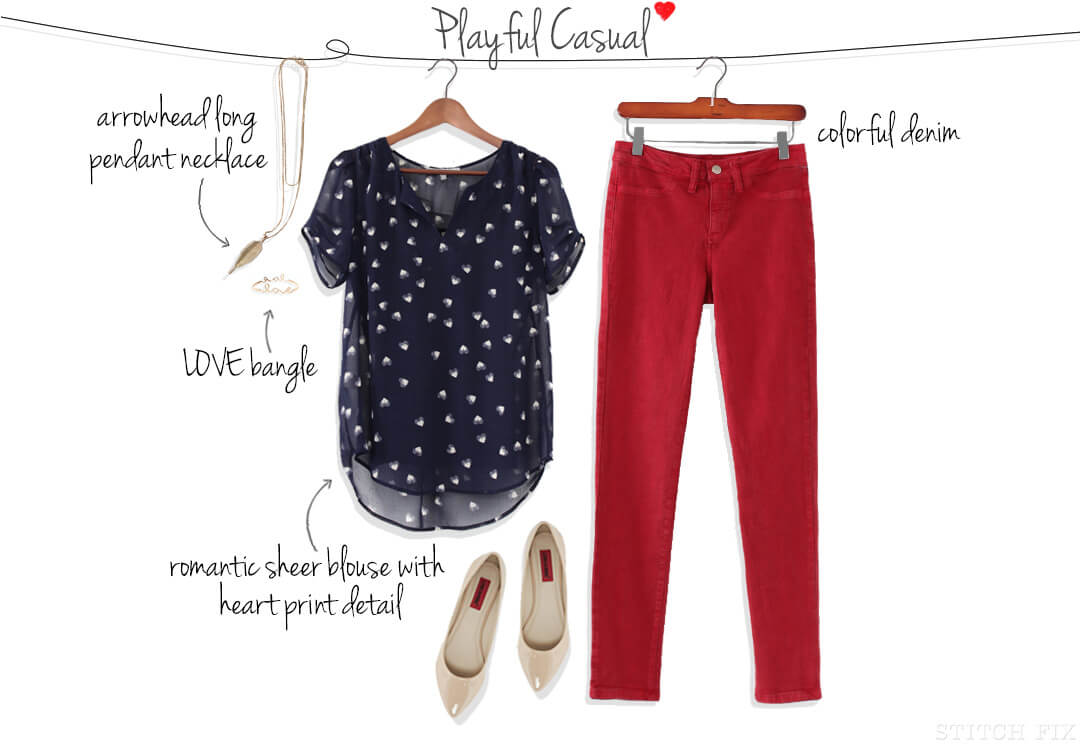 Play with heart prints and colorblocking to create a whimsical yet stylish look that's perfect for a casual celebration in the name of Cupid. Keep the focus on your color play by selecting simple accessories and neutral flats.
Blouse: Kieraly Heart Print Blouse ($68)
Pant: Kayla Skinny Jean ($98)
Necklace: Ramona Arrow Pendant Necklace ($28)
Bracelet: Ayla Love Bracelet ($28)
Shoe: London Rebel Pointed Flat ($37)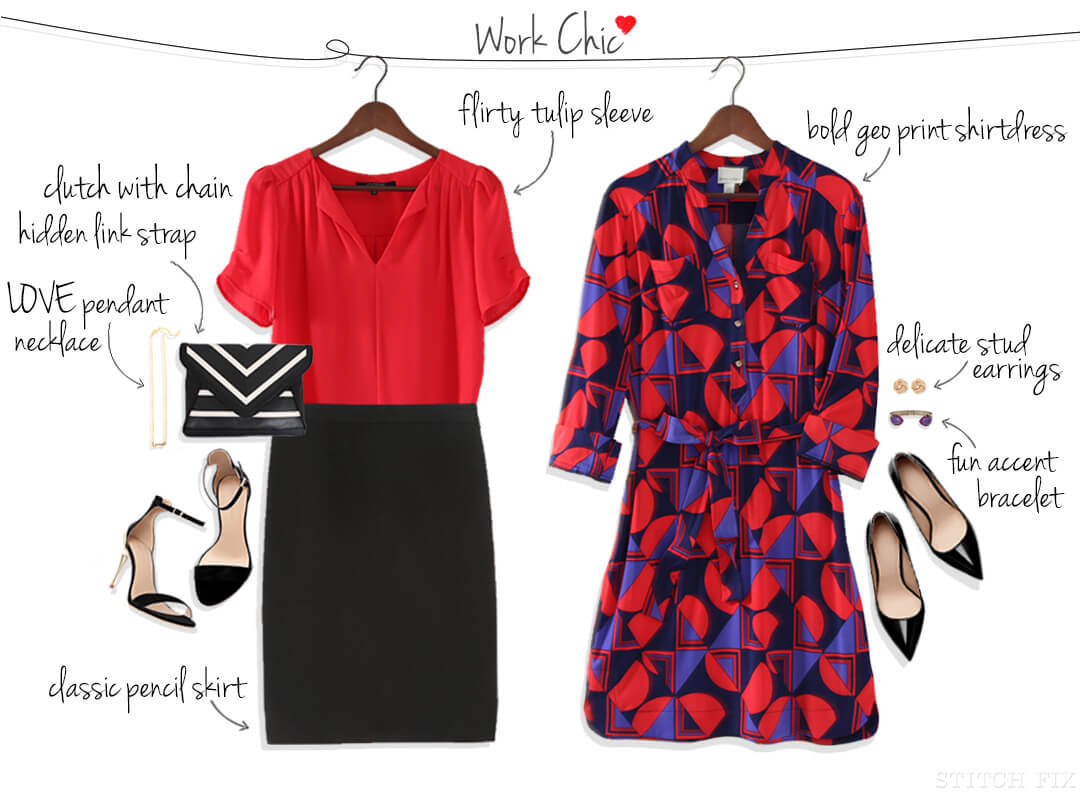 For a festive Valentine's look that transitions seamlessly from day to night, choose pieces in a romantic red. If you love solids, try tucking a red top into a pencil skirt. You can also incorporate another color into a patterned shirt dress for a buttoned up, yet inspired style.
Look 1
Blouse: Cathleen Tulip-Sleeve Blouse ($68)
Skirt: Judah Pencil Skirt ($68)
Bag: Lilly Cross-body Clutch ($48)
Necklace: Ariella Love Script Necklace ($48)
Shoe: Zara Stiletto Heel ($50)
Look 2
Dress: Aska Belted Dress ($118)
Bracelet: Isabelle Cuff ($58)
Earring: Savannah Stud Earrings ($28)
Shoe: Zara Patent Leather High Heel ($50)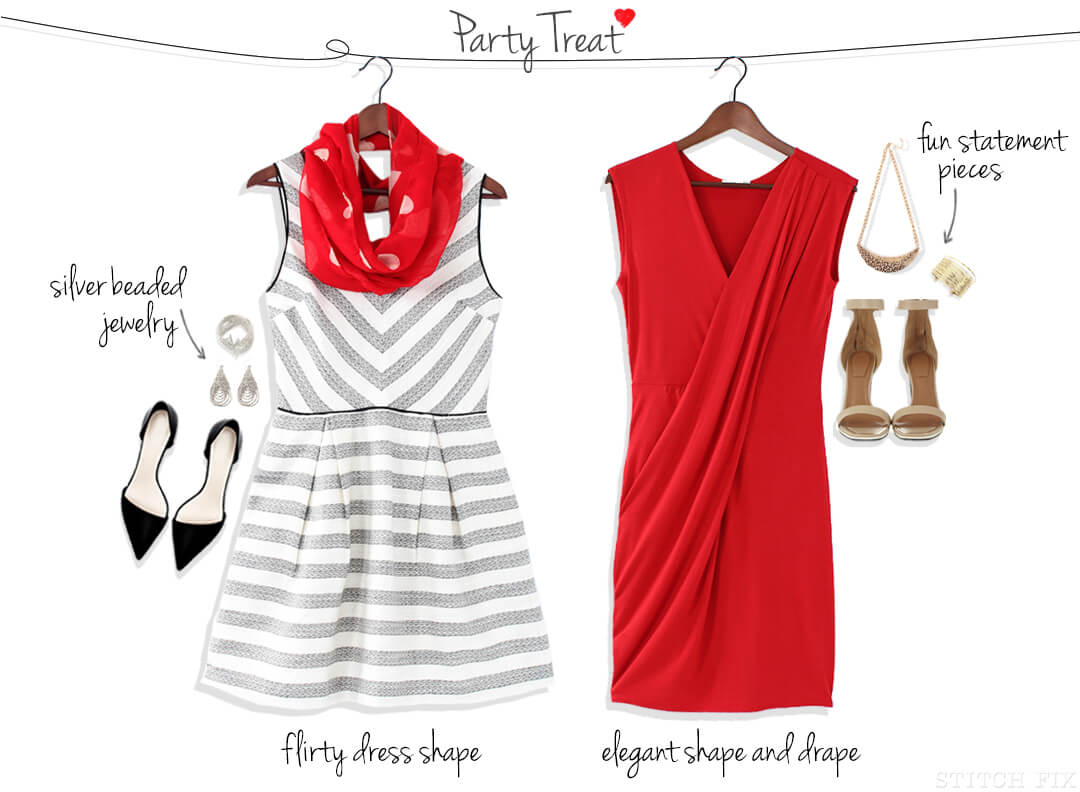 For a flirty, dressed-up date try a fit and flare dress in a neutral tone paired with a rosy-hued scarf. If you want to go total femme fatale, try a red dress with a flattering, draped silhouette. Complete your look with heels and complementary gold accessories.
Look 1
Dress: Topher Fit and Flare Dress ($78)
Scarf: Harlow Heart Print Scarf ($28)
Earring: Stephanie Beaded Earrings ($32)
Bracelet: Lila Beaded Cuff ($32)
Shoe: Zara Kitten ($30)
Look 2
Dress: Dovette Dress &64
Necklace: Metal Lace Bib Necklace ($32)
Bracelet: Veronica Cuff ($32)
Shoe: Richemaya Sandal Heel ($80)
Pin the image below to share these Valentine's Day style suggestions!